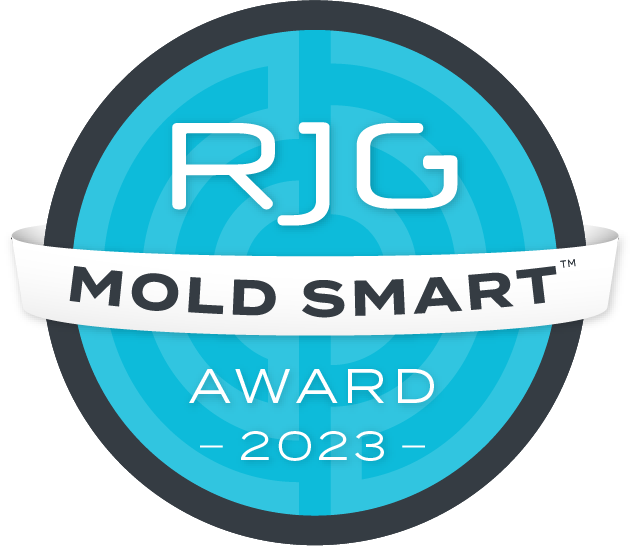 Innovative methods, continuous improvement, and a commitment to sustainable manufacturing are the hallmark of Technimark's success, and winning the RJG Mold Smart Award demonstrates that commitment is prevalent in all of our teams at all of our global sites.
The new RJG skills and procedures implemented will help reduce scrap, increase efficiency, and ensure consistent quality. But more than just operational efficiency, empowering our team with these skills ensures they will continue to shape the future of Technimark in positive ways.
We couldn't be prouder of the Technimark Germany team, especially the RJG trainees who represented us with utmost professionalism and dedication.
Many thanks to the inspiring teachers and leadership at RJG for this award!
---
RJG Press Release
RJG is pleased to announce the Europe winner of the second annual RJG Mold Smart Award™, Technimark GmbH.
The Mold Smart Award celebrates injection molding companies who have fully committed to improving the quality of their products, lives and the world by implementing a variety of RJG solutions. RJG is presenting one award in three of their global locations: North America, Latin America and Europe.
Technimark was selected in Europe due to their successful utilization of RJG´s training and integration into their ongoing processes and procedures. They are continually seeking to address and improve their plastic injection molded parts and place a high importance on quality and efficiency.
Technimark went through a series of RJG trainings across different workplaces and utilizes the new skills and procedures to reduce scrap and downtime by developing and maintaining stable processes. Based on a systematic approach, they are able to identify problems quickly and implement targeted corrective actions.
Technimark appreciates the opportunity to be taken into consideration for the Mold Smart Award 2023. They dedicate this award to all their leaders who make the development of their people a priority, but also to the employees who take the chance to grow and therefore help Technimark to be as excellent as they strive to be.
Technimark is thankful for the awesome teachers at the RJG team in Germany, who helped the trainees to resurface knowledge and to broadly widen their horizon on what is possible. So much was learned and brought back to Technimark to put to good cause in the future.
"Technimark's continuous pursuit of growth and improvement has been incredibly inspiring," shared Kevin Lacey, Managing Director of RJG EMEA. "Their unwavering commitment to employee empowerment through skill-building enhances morale and significantly boosts operational efficiency. It has been a pleasure to witness their remarkable transformation and a true honour to present Technimark with the distinguished 2023 Mold Smart Award."
The other two winners of the Mold Smart Award are Molex in North America and Ensambles Hyson in Latin America.