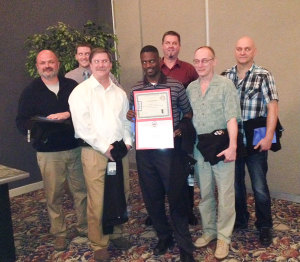 Technimark was pleased to honor the first 6 graduates of Technimark University. Pictured from left to right: Glen Smith, Todd Gricks, Gary Schiller (Instructor), David McFalling, Derek Westveer, Tim Parker and Steve Cocklin.
With 5 degree areas; TMU was created to support the growth of the company, through supporting the professional growth of the Technimark team. The current degree areas are Scientific Molding, Lean Six Sigma, Management, Maintenance/Automation, and Tooling.
Content for each area is provided by certified instructional professionals. While Technimark's primary learning partner is Randolph Community College (providing many learning avenues and options); other partners include NC State University office of Professional Development, Capital Associated Industries, Career Path, American Management Association, equipment manufacturers, and others based on specific need. Technimark is also fortunate to have certified RJG Instructor Gary Schiller (pictured) leading the Scientific Processing degree area, both locally and globally.
TMU is a global effort, with the TM locations in Germany, China and Mexico, working with their local community colleges and instructional professionals, to replicate the degree content established at Technimark's corporate location in Asheboro, NC. The 6 graduates for 2014 each attained the RJG Master Molder I Certification, qualifying them for recognition as TMU Scientific Molding Degree holders. Congratulations to each of the Graduates!